Provider's profile
Federal Ministry for Economic Cooperation and Development (BMZ)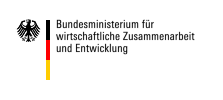 The BMZ devises the main concepts of Germany's development policy. The core pillars are bilateral cooperation and international partnerships. Economic development in partner countries is encouraged through promoting private sector investment as well as providing loans, grants, or trainings. The BMZ supports multilateral and European cooperation such as the World Bank, regional development banks, UN programs, and the European Development Fund.
Target markets/partner countries
Asia & Pacific
Europe & Central Asia
Latin America/Caribbean
North Africa/Middle East
Sub-Saharan Africa
Climatically relevant technologies and services
A) Mitigation of greenhouse gas emissions
Climate-friendly agriculture and forestry
Cross-sectoral interdisciplinary technologies for emission reduction
Energy- and resource-intensive industries
Energy-efficient cities and infrastructure
Low-emission power supply (on- und off-grid)
Other services
Sustainable waste- and recycling management
B) Adaptation to climate change
Building construction
Climate-adapted agriculture and fishery
Climate-adapted forestry
Coastal and flood protection
Disaster reduction
Finance
Health
Meteorological metrology and climate simulation
Resilient energy infrastructures
Water management
C) Cross-sectoral topics
Sample projects
German Climate and Technology Initiative (DKTI)
BMZ has created the DKTI as an instrument within its contribution to international climate finance with a particular technology focus. DKTI promotes the development of climate friendly and energy efficient technological solutions in partner countries to strengthen international market development for innovative technologies and industries. It combines technical and financial cooperation implemented together by GIZ und KfW.
4E-Initiative South Africa
Under BMZ assignment, the KfW Development Bank manages the financing of development work. The 4E-Initiative is developing a funding pool for renewables and energy efficiency (4E) in Africa. Private companies are granted the capital and technical expertise to initiate 4E investments, such that in the long-run, the local finance sector has the capacities to sustain the funding.
Energy Sector Technology Cooperation (TechKoop)
Under BMZ assignment, GIZ implements TechKoop to develop the political, technological, and financial framework to shift towards sustainable energy systems. Together with selected partner countries, TechKoop has its emphasis on renewable energy, energy efficiency and sustainable large-scale hydropower. At the same time, the conception and use of innovative approaches strengthens the link between climate and energy policy.