Provider's profile
Energising Development (EnDev)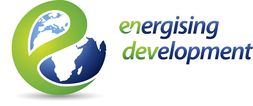 Energising Development (EnDev) is an energy access programme that promotes sustainable, energy-efficient technologies using a market-based apporoach. The global partnership is funded by six donors and implemented in 25 countries in sub-Saharan Africa, Asia, and Latin America.
Target markets/partner countries
Asia & Pacific
Latin America/Caribbean
Sub-Saharan Africa
Climatically relevant technologies and services
A) Mitigation of greenhouse gas emissions
Low-emission power supply (on- und off-grid)
Other services
C) Cross-sectoral topics
Sample projects
Market development through results-based financing (RBF)
EnDev supports the development of local markets in the country projects for which it uses the results-based financing (RBF) mechanism, inter alia. The RBF offers financial incentives for local market players which will be paid after verified results.
Local capacity building
EnDev supports the development of local structures through capacity building in the project countries. The programme informs, educates ans trains people along the value chain for energy access.
Development and enforcement of quality standards
EnDev contributes to the development of quality standards for various energy access technologies and promotes the international certification of products. EnDev supports the distribution of only high-quality, certified products in its partner countries.