Provider's profile
CReED e.V. - Center for Research, Education and Demonstration in Waste Management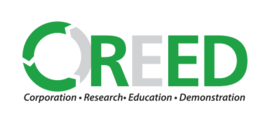 The consumption of raw materials and energy as well as the associated environmental pollution has increased dramatically over the last 20 years. These developments require ambitious efforts of all stakeholders of the circular economy and strict implementation of holistic solutions. Tackling these demands and requirements, CReED provides knowledge, know how and vast experience with recycling and climate protection techniques already in use at its demonstration center, capacity building and qualification classes.
Target markets/partner countries
Asia & Pacific
Europe & Central Asia
Latin America/Caribbean
North Africa/Middle East
Sub-Saharan Africa
Climatically relevant technologies and services
A) Mitigation of greenhouse gas emissions
Climate-friendly agriculture and forestry
Cross-sectoral interdisciplinary technologies for emission reduction
Energy- and resource-intensive industries
Low-emission power supply (on- und off-grid)
Other services
Sustainable waste- and recycling management
B) Adaptation to climate change
Water management
C) Cross-sectoral topics
Sample projects
Manual for enhanced landfill mining
Conceptualization of a sophisticated remediation manual for local authorities how to remediate old landfills and/or contaminated sites. The manual has been worked out and elaborated upon a previous research project for landfill mining of the BMBF. The linchpin of this project has been the environmental, economic and technological assessment of the content of valuable / recyclables at this specific sites / landfills.
Train-the-Trainer
Training of a Chinese delegation of experts in the field of a back-end biogas plant. These experts has been trained on methodology, technology and all related fields and enabled to train the staff operators of a MBT-Plant in Gaobejdian Province.
Training at of one largest European operator
CReED trained the operators staff of a waste sorting plant installed by Strabag in Ljubljana, Slovenia. The staff had been prepared for the testing, commissioning as well as how to handle and ensure the daily operation. CReED qualified and instructed the team intensively in the three following areas: work safety, testing, analysis and monitoring, operating, etc.